News
Hybrid conference event:
Authors can select an option in presenting their papers and/or attending the conference event on-line (zoom). However, the rtip2r 2022 committee encourages you to attend in-person. Welcome to the RTIP2R 2022
The 5th International Conference on Recent Trends in Image Processing and Pattern Recognition (RTIP2R) aims to attract current and/or advanced research on image processing, pattern recognition, computer vision, and machine learning. The RTIP2R will take place at the Texas A&M University - Kingsville, Texas (USA) on November 22 - 23, 2022, in collaboration with 2AI: Applied AI Research Lab, Computer Science, University of South Dakota (USA).

The contributions from researchers describing their original, unpublished, research contribution which is not currently under review by another conference or journal and addressing state-of-the-art research are invited to share their work in RTIP2R 2022. Download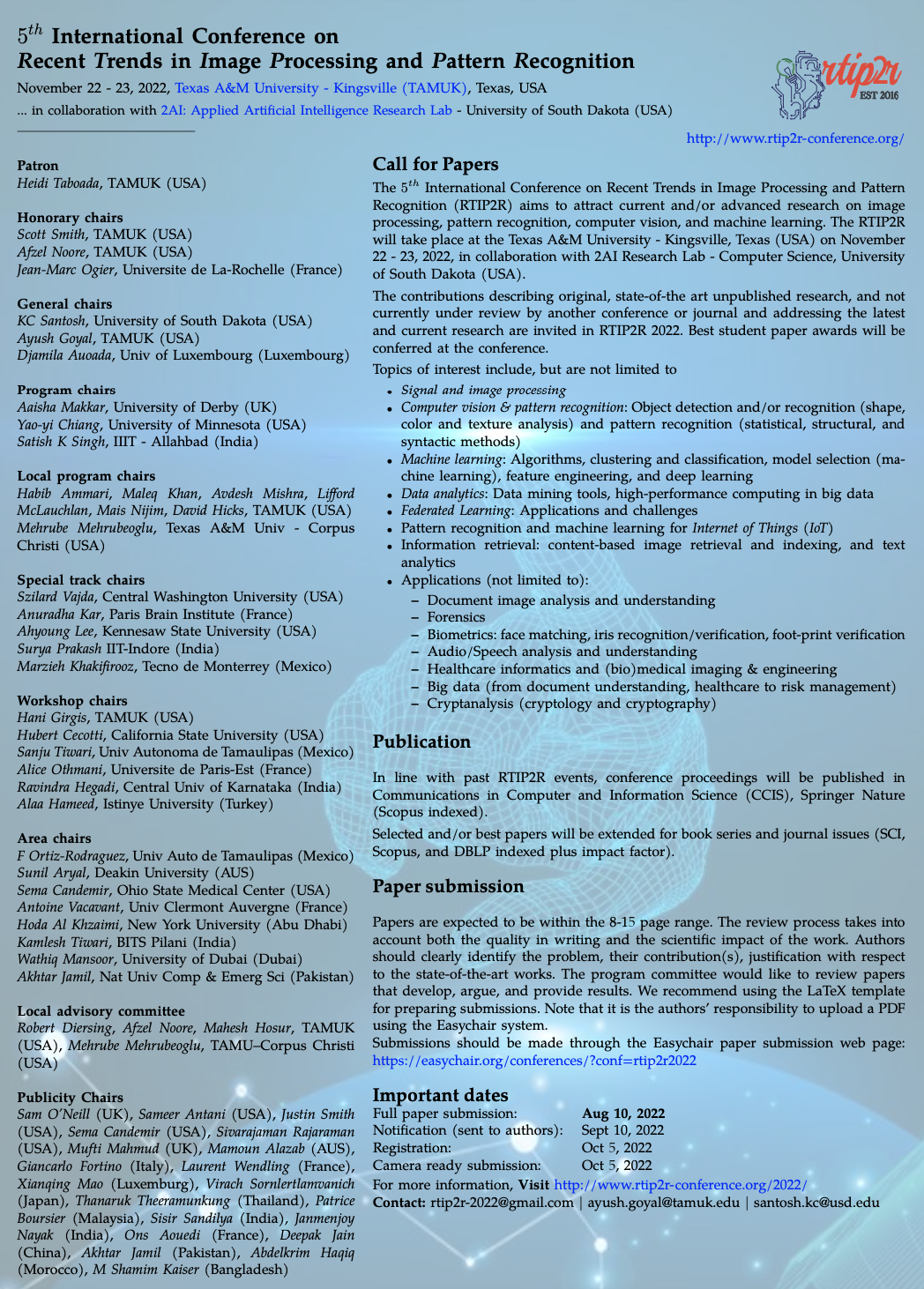 CFP (pdf)
Topics of interest include, but are not limited to
✓ Signal and image processing
✓ Computer vision & pattern recognition: Object detection and/or recognition (shape, color and texture analysis) and pattern recognition (statistical, structural, and syntactic methods)
✓ Machine learning: Algorithms, clustering and classification, model selection (machine learning), feature engineering, and deep learning
✓ Data analytics: Data mining tools, high-performance computing in big data
✓ Federated Learning: Applications and challenges
✓ Pattern recognition and machine learning for Internet of Things (IoT)
✓ Information retrieval: Content-based image retrieval and indexing, and text analytics
✓ Applications (not limited to):

• Document image analysis and understanding • Forensics • Biometrics: face matching, iris recognition/verification, foot-print verification • Audio/Speech analysis and understanding • Healthcare informatics and (bio)medical imaging & engineering • Big data (from document understanding, healthcare to risk management) • Cryptanalysis (cryptology and cryptography)
Publication
In line with past RTIP2R events, conference proceedings will be published in Communications in Computer and Information Science (CCIS), Springer Nature (Scopus indexed).

Best student paper awards will be provided at the conference. Selected and/or best papers will be extended for book series and journal issues (SCI, Scopus, and DBLP indexed plus impact factor).


Paper submission
Papers are expected to be within the 8-15 page range. The review process takes into account both the quality in writing and the scientific impact of the work. Authors should clearly identify the problem, their contribution(s), justification with respect to the state-of-the-art works. The program committee would like to review those, who develop, argue, and provide results. We recommend using the LaTeX template for preparing submissions.
Please follow the template for preparing a conference paper CCIS, Springer Nature and Overleaf.
Submissions should be made through the RTIP2R 2022 Easy Chair paper submission web page: https://easychair.org/conferences/?conf=rtip2r2022